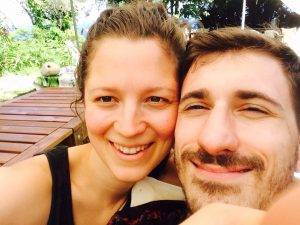 Über Selina
"Echte intime Beziehung ist nur dann möglich, wenn ich ehrlich zeige, was ich fühle und denke."
Selina Jung leitet Erwachsene an, sich durch aufmerksames Sprechen und Zuhören wirklich nahe zu kommen. Von verschiedenen Lehrern lernte sie über persönliche Entwicklung und Transformation (Tony Robbins); Präsenz- und Managementtraining/Coaching; Beziehung, Sexualität, Orgasmische Meditation (OneTaste) und Radikale Ehrlichkeit (Dr. Brad Blanton); Bild und Gestalttherapie (Forum Gilching) und arbeitet nicht zuletzt kontinuierlich die eigene Familiengeschichte auf.
Seit etwa 5 Jahren leitet sie Workshops in ganz Deutschland und coacht Klienten weltweit rund um Intimität und Liebe. Selina bietet den Rahmen, um zu üben, sich selbst mitzuteilen; andere so zu sehen, wie sie sind und um zu erleben, welches Gefühl von Wärme und Verbundenheit dadurch letztendlich entsteht.
01512 234 75 62
Über Christoph
"Seit meiner Jugend habe ich versucht, mir Zuneigung durch Erfolg zu verdienen. Egal ob als Vater, im Kampfsport, beim Yoga oder Meditieren, es ging immer darum alles richtig zu machen. Bloß nicht enttäuschen! Erst durch Radikale Ehrlichkeit konnte ich Unsicherheit und Schuldgefühle überwinden und endlich all die Abenteuer und Beziehungen erleben, die ich mir durch Disziplin, Strategien, Maschen und verschiedene Rollen vergeblich erhofft hatte.
Ich möchte inspirieren und zeigen wie einfach tiefe Beziehungen sind und wie großartig sich ein Leben ohne Maske anfühlt."
Christoph Fink coacht Einzelpersonen und Paare, leitet fortlaufende Gruppen in München und gibt Workshops in ganz Europa. 2017 wurde er von Dr. Brad Blanton als offizieller Radical Honesty Trainer zertifiziert.
0176 420 907 52
Testimonial:
"I´m very happy to see how directly Christoph is telling the truth in his own life, how well he has completed what was incomplete with people in his past and how enthusiastic he is about sharing what he has learned!
Selina is not only brave but also a very warm, wise and motherly loving person. She has the gift to create a space of safety and security. Anyone would love to be taken care of by her. Her compassion is trustworthy.
Selina and Christoph together are an inspiring example of a radically honest relationship. Their ability to love and their commitment to openness lets them forgive, reconnect and renew their bond again and again. Their ongoing practice with each other models how Radical Honesty works and makes them great workshop leaders!"
Brad Blanton, Ph. D., President, The Center for Radical Honesty
Impressium: Christoph Fink, Kürnbergstr. 36, 81369 München, 0176 420 907 52, [email protected]